Case Study: Trinity Reformed Baptist Church

Trinity Reformed Baptist Church, located in Jackson, Georgia, hired us to revamp the design of their website and to restructure its development within WordPress. Existing as a WordPress blog, their old website lacked a clear structure, ease of navigation, and responsive capabilities for mobile devices. The desired goal for the new website was that it have an attractive and cohesive design reflective of biblical reverence and worship and also a reorganization of information so that it would be much more user-friendly.
We created a responsive design for the website that is quiet and thoughtful, reflective of the church's values, and presents information to website visitors in a straightforward manner, keeping user-friendliness at the forefront. Regrouping the content and information on the site, we reorganized it into a very clear format that allows for ease of navigation and use. We then re-developed the website within WordPress, restructuring the back-end of the site so that it would be easy for the church to manage and update. The website includes a password-protected area that only members can access and also many resource pages where the church can upload and update media archive files as needed. The end result is a clean and well-organized website that is easily accessible and simple to use by both those who visit the website and those who manage it.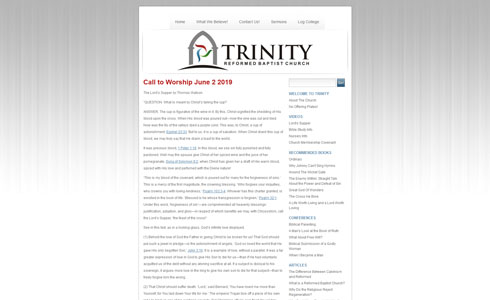 Launch Site
Return to Portfolio